From a small group "seeking the peace of the city" at Pastor Amy and Aaron Graham's home in 2010, God birthed a movement in Washington, D.C. that is now The District Church. Together, that small group discerned God's calling to plant a Christ-centered, culture-defining church for transplants and natives.
We are a church committed to impacting our city for Christ, one neighborhood at a time.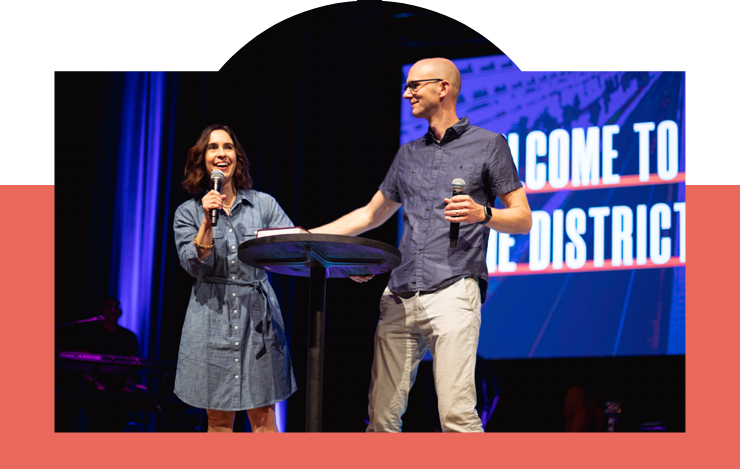 Out of loyalty to Christ and the gospel, we have come to a number of convictions concerning the clear teaching of the Bible in our Statement of Faith. These convictions are consistent with those held by Bible-believing Christians for the last 2,000 years.
About God
We believe that there is one true, holy God, eternally existing and expressing Himself in three persons – Father, Son, and Holy Spirit – each of whom possesses equally all the attributes of deity and characteristics of personality. In the beginning God created out of nothing the world and everything in it, and from that beginning He has been relentlessly desiring and pursuing a personal, intimate, and eternal relationship with us, His children. (Genesis 1; Deuteronomy 6:4; Matthew 3:16,17)
About Separation From God
We believe, even though God created humans to live in relationship with Him, that sin entered the world through the first man and woman, and our relationship with God was broken and distorted. That initial disobedience by humans resulted in a severing of our relationship with God, and there was and is nothing we can do on our own to reestablish that union with our Father … But we also believe that God did not abandon His creation to destruction and decay; rather He promised to restore this broken world and bring His family back together. (Genesis 3; Romans 1-3)
About Jesus
We believe that our longings to be reunited with our Father found their fulfillment in Jesus, born of a virgin, mysteriously God in the flesh. Jesus came to preach good news to the poor, to heal the broken-hearted and set captives free. He lived a perfect life, proclaiming the arrival of the Kingdom. He was rejected by many, crucified, buried, and rose again. His death and resurrection bring hope to all creation. Through Jesus we have been forgiven, and through Jesus God reconciles us to Himself. Through Jesus, God puts His family back together — Jesus is the only way for this to happen, the only mediator between God and humans. For all who believe and receive His sacrifice He gives the Holy Spirit who leads us into all truth through a communal life of worship and a missional expression of our faith. (Matthew, Mark, Luke and John; Romans 5:1-11; Hebrews 4:14-16, 7:24-25)
About the Holy Spirit
The third person of God (Father & Son being the two others) is the Holy Spirit. We believe the Holy Spirit lives within every believer in Jesus and that the Spirit is our abiding helper, teacher, and guide. We believe in the filling or the empowering of the Holy Spirit for ministry today. We believe in the present ministry of the Spirit and in the exercise of all of the biblical gifts of the Spirit. (John 14 & 16; Acts 2; Romans 8; I Cor. 12 – 14)
About the Bible
We believe the Bible to be the voices of many who have come before us, inspired entirely by God to continue to speak to us today.; We believe the Bible, as it was originally written, is entirely accurate, complete and reliable; God calls us to immerse ourselves in this authoritative Word and to continue to faithfully live out that story today as we are led by the Spirit. (2 Timothy 3:16,17; 2 Peter 1:19-21)
About the Church
We believe there is one true church, universal, comprised of all those who acknowledge Jesus Christ as Savior and Lord. We practice the ordinances of baptism and the Lord's Supper and await the return of Christ. We believe the church is called to engage the culture and to put the resurrected Christ who lives in and through us on display to a broken and hurting world. We believe that God works through the church to bring His family back together through Jesus Christ. (Matthew 5:13-16; Matthew 16:18; Acts 1-12; Ephesians 4:1-16)
We believe God establishes our roles, and we are honored to love, think and act like Jesus as we serve His people in Washington, D.C.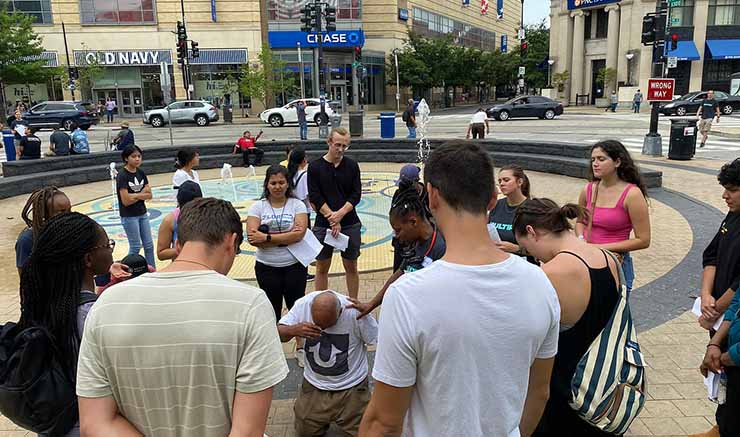 Impacting our city for Christ, one neighborhood at a time
To make disciples who love, think and act like Jesus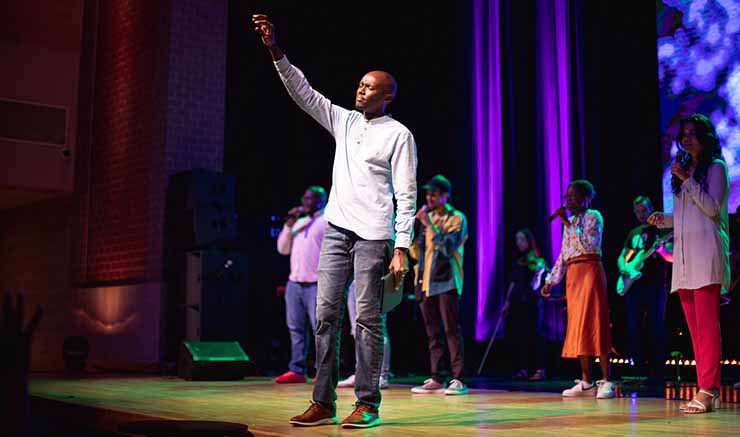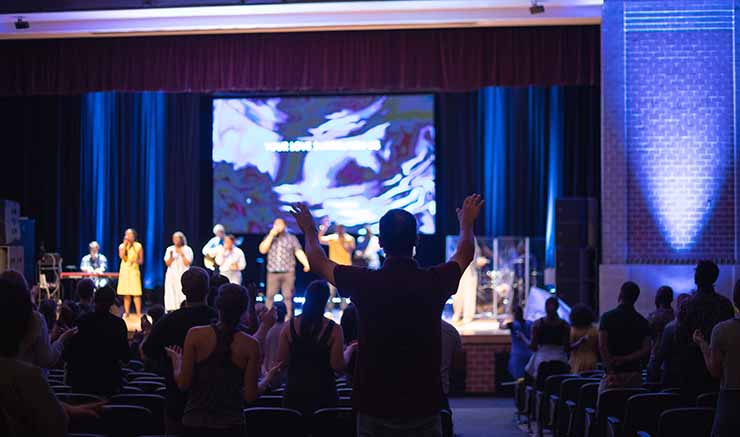 Worship – upward to God
Community – inward to one another
Justice – outward to the world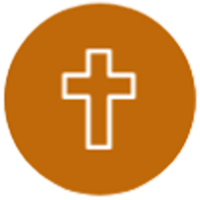 Missional
Living out your God-given mission in everyday life.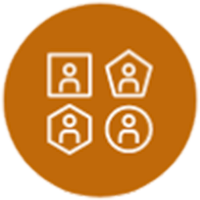 Multicultural
Making disciples of all nations.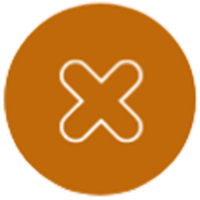 Multiplying
Developing leaders and churches in DC and beyond.
Becoming A Multicultural Church
As the collective body of Christ, we understand that we are both diverse and represent a variety of different cultures, identities, abilities, life experiences, etc. Through Spirit-led discernment, we consistently seek to be welcoming and intentional in developing disciples of Christ who live out their faith in how they love, think, and act. We celebrate diversity as we learn how to become one body of Christ.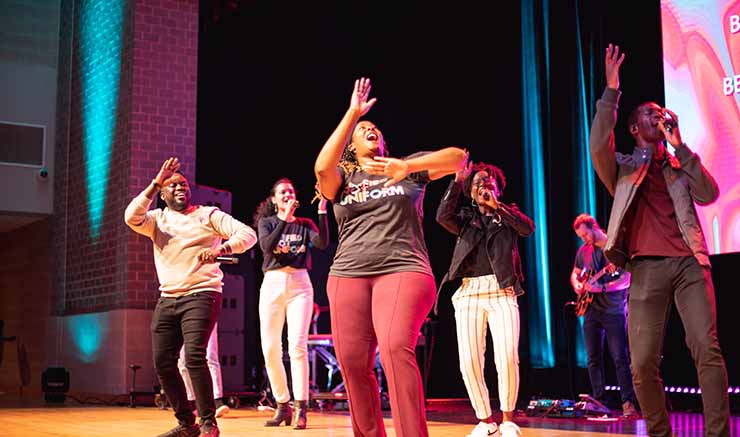 Stories From The Community
God's story of restoration and redemption is being played out in the lives of Jesus-followers all across the globe. Through Jesus' work in the hearts of The District Church community members, He's writing a story of hope and healing in the neighborhoods of Washington, D.C.
Thank you for your interest in working on our team at The District Church! Following are the open positions that are currently available.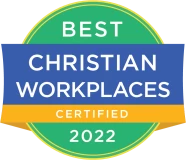 Kids' City Director
The Kids' City Director ensures the families of The District Church have a safe and fun environment where children can learn to know and follow Christ. The Director works with families with children (infants – 5th grade) in partnership with their parents/guardians and our volunteers.
Digital Engagement Manager
The Digital Engagement Manager serves a crucial role in The District Church by connecting people who are disconnected from God and the church to deeper engagement with our community through various digital platforms.
Just Homes Executive Director
Just Homes is a housing initiative of The District Church that mobilizes and equips churches in D.C. to live out their calling to biblical justice by meeting the city's housing needs.
Family Support Coordinator
Be a part of the DC127 team, assisting with the coordination and delivery of the Communities for Families Program (CFF), being dedicated to moving our overall mission forward. The ideal candidate will have experience serving under-resourced families, strong interpersonal skills, the ability to problem-solve and work well independently and in a team environment.
Facilities Manager
The Facilities Manager at The District Church is responsible for the maintenance of all church properties, ensuring their safety, operability, aesthetic appeal for visitors, and fostering a conducive working environment for all church staff.