Welcome to the next chapter of your story.
Rooted is a 10-week experience that deepens your connection with God, the Church, and your purpose in His story.
Rooted is a catalyst for life-change. Rooted inspires questions, conversations, and experiences that are designed to help you place yourself in God's story. It instills rhythms and practices that will help you to grow closer to God and to others.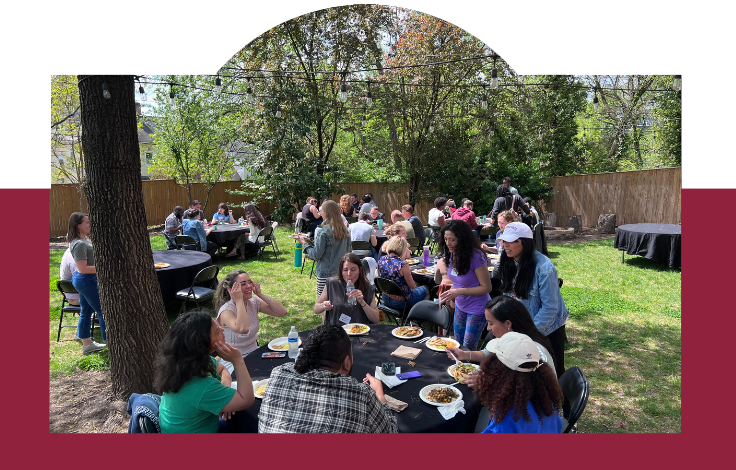 To the extent that you press into Rooted, you will begin to see God in new ways and hear His voice in surprising places. You will form deep friendships and find community. In a world that can be fragmented, isolated, and empty, Rooted allows you to experience a different way of life. It is a means that God can use to transform you to love, think, and act more like Jesus.
To participate in Rooted, you must commit to attending at least 8 of the 10 weekly sessions and the 3 experiences (prayer, service, and celebration).
| | | |
| --- | --- | --- |
| | | |
| | | |
| | | |
| | | |
| | How Does God Speak to Us? | |
| | | |
| | Where is God in the Midst of Suffering? | |
| | | |
| | How Can I Make the Most of My Life? - Part 1 | |
| | | |
| | How Can I Make the Most of My Life? - Part 2 | |
| | | |
| | Why and How Should I Tell Others? | |
| | Why is the Church Important? | |
| | | |
NOTE:
* after week 1, cohorts may meet on days of the week other than Tuesdays
** may fall on a different date because the serve experience will be customized for each cohort
NOTE:
* after week 1, cohorts may meet on days of the week other than Tuesdays
** may fall on a different date because the serve experience will be customized for each cohort
| | | |
| --- | --- | --- |
| | | |
| | | |
| | | |
| | | |
| | How Does God Speak to Us? | |
| | | |
| | Where is God in the Midst of Suffering? | |
| | | |
| | How Can I Make the Most of My Life? - Part 1 | |
| | | |
| | How Can I Make the Most of My Life? - Part 2 | |
| | | |
| | Why and How Should I Tell Others? | |
| | Why is the Church Important? | |
| | | |
| | | |
| --- | --- | --- |
| | | |
| | | |
| | | |
| | | |
| | How Does God Speak to Us? | |
| | | |
| | Where is God in the Midst of Suffering? | |
| | | |
| | How Can I Make the Most of My Life? - Part 1 | |
| | | |
| | How Can I Make the Most of My Life? - Part 2 | |
| | | |
| | Why and How Should I Tell Others? | |
| | Why is the Church Important? | |
| | | |
NOTE:
* after week 1, cohorts may meet on days of the week other than Tuesdays
** may fall on a different date because the serve experience will be customized for each cohort